The Modernized Media Maker Space
Santa Susana High School: Simi Valley, CA | Designing Teachers: Luke Golden, George Gabriel, Francisca Mendoza-Martinet,
In the Modernized Media Maker Space project, four high school teachers set out to redesign an antiquated media arts classrooms into a state-of-the-art industry-standard studio where students can learn professional skills.
Academic skills & content: Marketing and communication skills, working within bureaucratic systems, industry-specific needs for professional spaces, networking, effective real-world writing, engineering,  architecture, interior design, computer programming, organizational culture skills, critical thinking, problem-solving, collaboration, social-emotional learning.
Final product: State-of-the-art professionally re-designed media lab
Suggested duration: A 3-4 year multi-phase project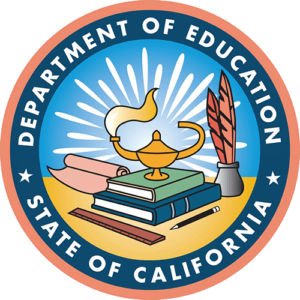 Created with the support of the California Department of Education California Career Pathways Trust
Core Practice 1: Approach Industry Partners
X
Core Practice 1: Approach Industry Partners
The first step in building a state of the art media center for a High School CTE program is to approach as many supporting industries as possible. For us and our program, the place to start was the NAB Convention– in Las Vegas.
In the course of two days, we made 25 connections with companies that support the film and television industry.
Core Practice 2: Engage the Community
X
Core Practice 2: Engage the Community
Since the education system is engineered to prevent change, the only way to modernize a Media Maker space for student use is to build the political will to move into the future.
Our approach is four fold. First, we demonstrate project value by showing the principal, the school and the district that this project will elevate the school's profile in the community.
Next, excite and engage students and by extension their parents through Open Houses, Fundraisers and other school events.
Also, bring in local businesses to help sponsor and support the project because it will ultimately enrich the community.
Finally, shine a spotlight on the project through media. Local papers, tv news, radio and other news outlets will jump at the chance to do a human interest story to highlight students and their potential.
Core Practice 3: Project Launch
X
Core Practice 3: Project Launch
The unveiling of the project is essential to build momentum. This is where we can generate energy to engage interested investors and then snowball that energy to attract other investors to come aboard.
Our film and tv program showcases student work 2-4 times a year at film festivals that attract hundreds of attendants. We will use these festivals to promote and communicate progress of the official launch.
We will also organize a fundraising gala benefit for generous benefactors that will showcase student work, feature industry speakers, and the community can come together, ask questions, and then bid to sponsor and adopt various technological pieces of the overall project.
Then a final official launch event will be heavily advertised and promoted with a press kit and media invitations.
More
Interdisciplinary PBL Essentials
:
---