Stories of Direction
Cheltenham High School, Cheltenham, PA | Designing Teacher: Lyndie Dubbs
In the Stories of Direction Project, students explored the essential question, "How do journeys transform us?"
In order to explore this, students wrote "flash narratives" about community members who had relocated and experienced culture shock. They also read about sea exploration and studied the literary metaphor of the boat. They then built and enhanced scale model boats to symbolize the journeys of their community members as they adapted to new cultures. The project closed with an exhibition that celebrated the stories of the displaced community members.
Academic Skills & Content
Interview a community member
Write a concise narrative rich in figurative language
Analyze works of fiction and nonfiction (students read excerpts from Life of Pi, The Perfect Storm, and "The Open Boat")
Use ratios to convert dimensions
Employ imagery and figurative language in a visual design
Final Products
200 word "flash narratives" about displaced community members
Visually enhanced ⅛ scale poster board boats
¼ scale wood and fiberglass boat
Transformed classroom celebrating displaced community members
Suggested Duration: 7 weeks
This project was created with the generous support of the Avalon Foundation.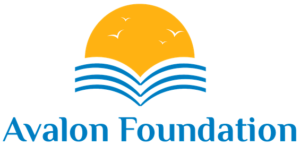 Final Products: What the Students Made
X
Final Products: What the Students Made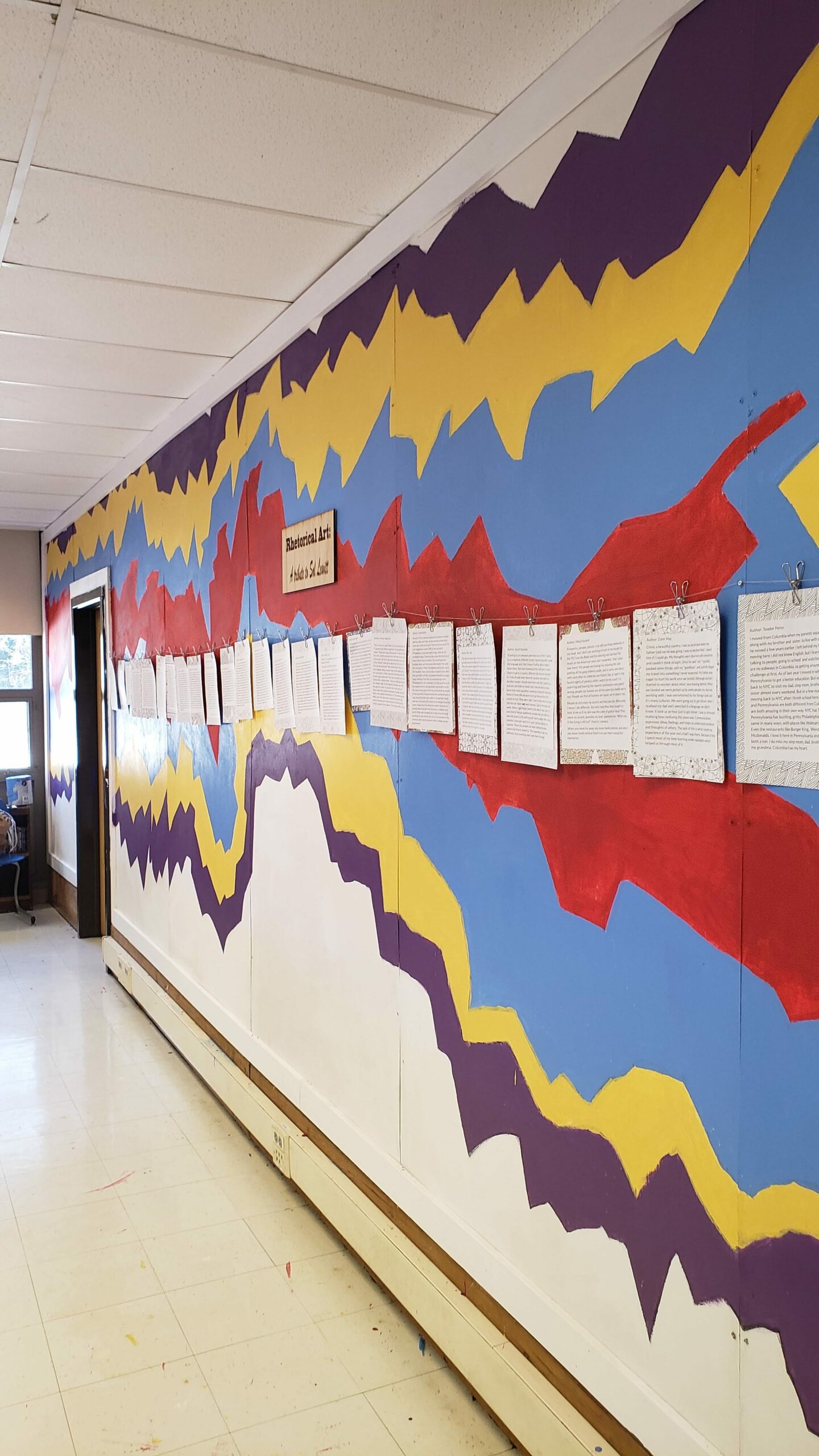 Individual Final Products:
Each student wrote a 200 word "flash narrative" that describes a community member's journey from one culture to another and how it transformed them.
A "flash narrative" is a very short story with a restrictive word count – in this case, students had to write exactly 200 words.
Each student made a ⅛ scale boat visually enhanced to represent their community member's transformation.
Collaborative Final Products:
A select team of "builders" crafted a ¼ scale boat from wood and fiberglass. They followed traditional boat plans and used the stitch and glue construction method. They tested their boat in the school pool for buoyancy and symmetry.
Students worked in teams to prepare an interactive exhibition of their work. This included making an illuminated "river of words", finishing a mural, editing stories, and curating their work for display.
The "river of words" ran through the middle of the classroom. Students wrote phrases from their flash narratives on it, then audience members added to it during exhibition.
Core Practice 1: Student Transformation
X
Core Practice 1: Student Transformation
Students transformed content and media often throughout The Stories of Direction Project. For many students, this fostered their personal growth.
There were a few parts of this project that had a particularly powerful impact on students:
Interviewing: Students interviewed family members, immigrants, people from marginalized groups, teachers, and classmates. They endeavored to uncover a story worth telling that would answer the essential question, "How do journeys transform us?". Many of them found more than a story—they found a new perspective in the relationship with their interviewee.
Writing: Students transformed their interviews into 200 word "flash narratives". This process took many drafts and awarded students with a sense of achievement and an exhibition-ready product about a real person.
Crafting: In addition to individual poster board boats, a group of students rendered plywood and fiberglass into a sturdy, ¼ scale canoe. They tested their 4' long boat in the school pool and learned about buoyancy first hand. They began to empathize with the travelers we read about who guided vessels across unpredictable waters.
Exhibition preparation: Students turned their classroom into a gallery and prepared for exhibition. They wrote a script, finished a mural, constructed a river of words, hung paper boats, edited stories, and more. Exhibition was their opportunity to show off all the things—and all the ways in which—they had transformed.
Core Practice 2: Authentic Partnerships
X
Core Practice 2: Authentic Partnerships
Authentic partnerships motivated students to meet deadlines and work in high quality. They produced deliverables inspired by real people beyond the classroom with whom they had built relationships.
Students were tasked with finding a community member to interview. Their project work relied upon the interviews and the relationships they built with the community members.
After several rounds of interviews, students critiqued each other's interview transcripts, providing feedback on their storytelling potential. Students then wrote the first draft of their flash stories and emailed them to their community members for feedback. They knew that their interviewee (and not just their teacher) would be reading their narratives. This motivated them throughout the revision process.
As an added boon, select students would read their flash narratives at the project exhibition, which many of the interviewees would attend. In this way, students formed authentic partnerships that served evaluative and supportive roles throughout the project.
Core Practice 3: Prototypes and Critiques
X
Core Practice 3: Prototypes and Critiques
Several rounds of prototyping and critiquing helped students increase the quality of their final products. It also gave them ample experience in presenting and defending their work, which helped them prepare for exhibition.
Students prototyped the 200 word "flash narrative" multiple times before finalizing their narratives. Peers, the teacher, the interviewee, or a combination of all three critiqued each draft prior to revisions. Feedback areas included checking the word count and evaluating style and narrative elements.
Before building their ⅛ scale boats, students drew boats on printer paper. They outlined the shapes of the boat's bottom and two sides. Next, within the outlined shapes, they sketched artistic designs based on their narratives. A peer critique with multi-colored sticky notes followed. From the critique, students learned how to improve their artistic designs.
Students then prepared for a formal critique with 11th graders. They revised their boat drawings and paired them with their 200 word stories. 10th and 11th graders sat in groups and followed a critique protocol to make sure that every student received kind, specific, and helpful feedback before moving on to crafting their final products.
More
English PBL Essentials
:
---