Project Save The Earth: Earth Impact Podcasts (English)
Da Vinci Design High School, El Segundo, California | Designing Teacher: Jason White
Project Save The Earth is a collaboration between art, math, English, physics, and Spanish, focused around the challenge of saving the planet from environmental catastrophe. The project culminated in a shared exhibition, but each class created its own final products (you can see the project sheet here). This page focuses on English, where students produced podcasts about the ways that humans are impacting the earth.
Final Product: A podcast narrating a group's experience with doing a "personal environmental challenge"
Suggested Duration: Eight weeks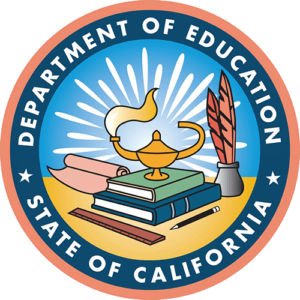 Created with the support of the California Department of Education California Career Pathways Trust
Final Products: What the Students Made
X
Final Products: What the Students Made
Students made podcasts describing their experience tackling a "personal environmental challenge". You can hear an example, "The Plastic Waste Challenge", by playing the clip to the left of this text.
Core Practice 1: Care
X
Core Practice 1: Care
In terms of the Da Vinci Design process, Care is one of the key parts of the design cycle.  Usually we begin with this step to build student empathy, buy-in and motivation. This aspect is also important to revisit during the process to help maintain student engagement and to help them persevere, especially through projects that take a longer amount of time.
For the thematic, multi-disciplinary project, the "Project Save the Earth Fair", we had an initial entry event designed to help students begin to recognize their personal impact on the Earth.  We collected trash from throughout the school for a day and had the students sort through and take an inventory of the trash. Based on their findings, they created posters using the found materials intended to encourage other students to reduce their personal environmental impact.
After the opening entry event, in English/Composition classes, students were given the choice of several books that fell roughly into the Climate Fiction ( Cli-Fi ) genre.  After previewing and choosing their preferred books, students worked in Literature Circle groups to read through and discuss the texts, along the way determining the themes of the books.  While working on their reading and writing skills, students were also building their empathy for and understanding of climate change and negative environmental impacts. In various ways, the Cli-Fi books painted a picture of possible outcomes for the Earth if climate change trends continue, helping students to understand the importance of taking steps to help minimize human impact on the environment.
Midway through the project, we also had a guest speaker from an organization called Heal the Bay that organizes local beach clean-ups.  The speaker gave the students a lot of background information about the history of water treatment and sewage in the Los Angeles area, as well as explanations of the impacts of trash, especially plastic, on the ocean and sea life.  Right after listening to the speaker, students headed out to a nearby beach to clean up garbage along the shore, keeping a running inventory of the types of trash they found. In this way, they were able to see first-hand how much human waste from Los Angeles is actually ended up on the beach and in the ocean.
While for many people, trash, climate change and negative environmental impacts are not a regular topic of conversation, our students had several different opportunities to experience, read about and discuss these issues in order to help build their empathy and care about the projects they were working on in their various courses.
Core Practice 2: Conceptualize
X
Core Practice 2: Conceptualize
In the "Conceptualize" portion of the design process at Da Vinci Design high school, students brainstorm and begin to plan out the projects they are going to make for this project, working under the theme of "Save the Earth," we decided to assign students to create a podcast that would inspire their audience to reduce their impact on the environment.  In addition, to give their podcast more of a focus, students were tasked with documenting a personal environmental challenge. We watched several examples of videos of individuals and groups that took on various similar challenges, such as not using straws, composting their food waste and cleaning up neighborhood trash. Students were assigned to groups, and within the parameters of creating a podcast that documented a personal environmental challenge, they had to decide what roles they would take on within their group, which challenge they would all take on, how they would track and document their challenge, and what questions they would ask themselves and their team members during audio interviews.  Students also listened to multiple examples of podcasts to develop a better understanding of their style and format.
Core Practice 3: Create
X
Core Practice 3: Create
In the Create stage of the design process at Da Vinci Design High School , students are working actively to make their product. In this case, while their final group deliverable was a 3 to 12 minute podcast that was to be played to Exhibition visitors, each individual in the group also had a role with separate deliverables.  Since this was a collaborative and complex task that had to be completed in about three weeks, the students were given a work schedule with due dates for individual deliverables along the way. For each team there was a writer who was responsible for creating the intro and outro for the podcast, a documentor who had to create rough transcripts of the audio recordings and interviews, a host who was responsible for narrating the podcast, and an audio mixer who had to use an online audio editing platform, Soundtrap, to put it all together.  Group collaboration and work time was given in class every day throughout the 3-week project, and group members were able to help each other with their various tasks as needed. While everyone in the group had opportunities to work on revisions of their work, the audio mixers probably had the hardest job overall, as they had to learn a whole new program and lay down various audio tracks with narration, transitions, intros, outros, sound effects and, in some cases, music. Overall, while students were in the middle of the "Create" phase of the design process, the classroom became very student-centered and it had the look and feel of a collaborative workspace, as students worked within their groups in the classroom and utilized the common workspaces in our grade level hub.
Core Practice 4: Critique
X
Core Practice 4: Critique
At Da Vinci Design High School, Critique is an integral part of the design process, as we have found that students need several rounds of feedback on their projects in order to create quality work.  Throughout this project, students had several different opportunities to receive feedback in various forms. Not only did they get feedback from the teacher, they also received feedback from their own group members, from at least one other group in the class, from students from a different grade level, as well as from the rest of the class.  In most cases, the protocol that the students use is called Critical Friends Groups. In this protocol, those who are giving feedback start off by asking clarifying questions; then they proved the group with warm feedback; after that, they give any cool feedback; finally, they provide suggestions and recommendations for the group. For the Critique session where 10th graders came in and gave feedback to the 9th graders, the 10th graders were given a worksheet to guide their feedback and have them focus on a few key aspects of the podcasts and presentations as the 9th graders were prepping for Exhibition.  Critique is a core practice at Da Vinci Design, and it allows students multiple opportunities to improve and refine their work, making it more likely that they will produce quality products.
More
English PBL Essentials
:
---