In the "1619 Project" Project, students explored the impacts of the USA's history of race-based slavery on the social, financial, and political systems that underpin modern America.
Key Academic Skills & Content: Students read and listened to podcasts of selected essays from the New York Times' Pulitzer Prize-winning 1619 Project, published in October 2019 on the 400th anniversary of the arrival of the first ship transporting enslaved Africans to the US. Students created museum-quality artifacts based on historic events or figures featured in the 1619 Project, supported by a written piece explaining the artifact's significance. Next, in small groups, students took a "deep dive" into one of themes explored in the 1619 Project, researching and contextualizing the lasting legacy of slavery on America's national identity. This in-depth research ultimately became the basis for the quilt panels that students created.
Final products: Students created quilt panels, inspired by the AIDS quilt, representing their interpretation of slavery's impact on one of 6 themes explored in the 1619 Project (Capitalism, Sugar, Music, Politics, Urban Planning, and Prisons).
Funding for the materials and equipment for this project was provided by a Teaching Tolerance Educator Grant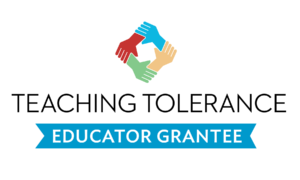 This project was created with the generous support of the Avalon Foundation.